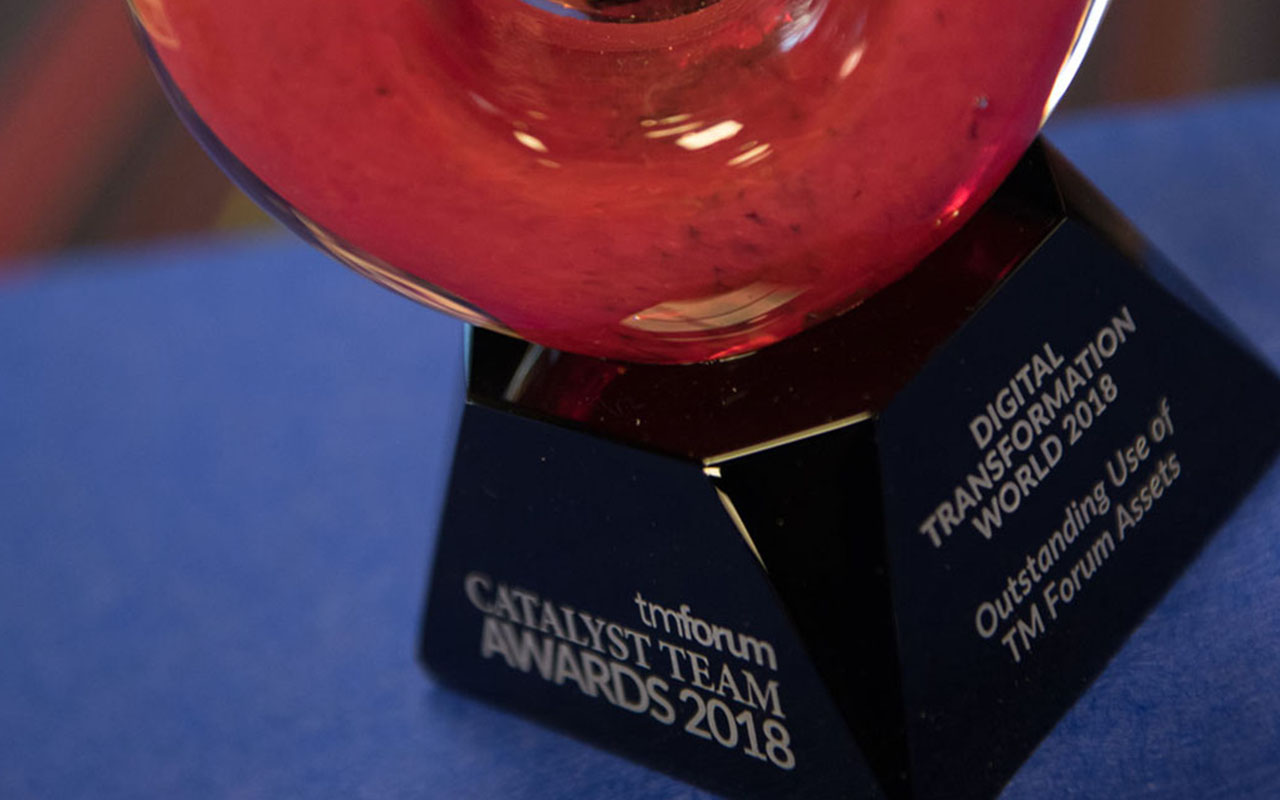 Globetom Wins Two Catalyst Awards at Digital Transformation World 2018
TM Forum's award recognizes the Catalyst teams who have demonstrated outstanding work in solving real-world challenges or making future opportunities a reality
Globetom announced that both its Catalyst projects, Phygital Store and Connected citizens – a Smart City Enabling Digital Platform, were selected as winners in TM Forum's 2018 Catalyst Awards at Digital Transformation World in Nice. Both Catalysts were recognised for Outstanding Use of TM Forum Assets.
Phygital Store, which was championed by Orange included the catalyst participants Globetom, QualyCloud, BearingPoint and NTS Retail. This Catalyst blended the physical and digital interactions customers have with service providers into 'phygital' experiences. The aim was to improve customer experience in stores and online and reinvent the customer relationship using gamification, robots, artificial intelligence, the EU's GDPR compliance, a personalised loyalty program and automation.
"We were fortunate to work with excellent partner companies to produce an innovative use case for robotics and AI to improve in-store customer experience. We are honoured that our work was recognised in this way," says Clara van Staden, the lead developer from Globetom on the Catalyst.
Connected citizens – a Smart City Enabling Digital Platform, which was championed by NTT Group, Orange, the City of Nice and the City of Saint Quentin included the catalyst participants Globetom, ForgeRock, BearingPoint, Infosim and Civimetrix Telecom. This Catalyst developed a cloud-based platform, or data hub, for smart cities that used TM Forum Open APIs and software-defined networking, supported distributed ledger technology like blockchain and provided an IoT gateway and identity and access management. It enabled new business models supporting the TM Forum's Smart City Manifesto and provided the digital capability for services that deliver cleaner, safer, more adaptive and efficient city environments for citizens, enterprises and visitors.
Pieter Janse van Rensburg, one of Globetom's directors who was working on the Catalyst has said, "Working with great partners and catalyst contributors was a fantastic experience, especially working together to build a platform that could be leveraged by any city in the future to enable and empower the smart use of the city's resources. Being recognised for our contribution indicates that we are on the right track and fuels the next stage of work building towards a minimum viable product (MVP) version of the catalyst".
Philip Stander, Globetom's Managing Director stated, "By leveraging our own platforms to address catalyst project use cases and to integrate our platforms with those of our catalyst partners, Globetom is able to gauge the relevance of our tools continuously. This enables us to explore the adaptation of our platforms in new solution areas. The use of our technologies in these projects in the areas of gamification, smart contracts and rewards programs using distributed ledger technologies showcased the agility that we can achieve to break into new markets."
Catalysts are member-driven proof-of-concept projects which connect diverse organizations to develop innovative, commercially viable prototypes of new digital services and business models. Twice per year, TM Forum recognizes the Catalyst teams who have demonstrated outstanding work in developing solutions to the challenges that the industry is facing. The 7 winning programs were selected from 24 Catalysts, all of which were showcased at this year's Digital Transformation World.
"The Catalyst projects showcased at Digital Transformation World 2018 were incredibly innovative and demonstrated real solutions to industry challenges," said Andy Tiller, EVP Collaboration and Innovation, TM Forum. "Catalysts showcase the power of collaboration enabled by TM Forum and bring together a wide range of companies, industries and ecosystems. Our sincere congratulations to the winners and to all those who participated for their outstanding work."
More than 100 member companies and hundreds of individuals participated in the 2018 Catalyst projects, which spanned Open APIs, SDN & NFV, digital health, data monetization, AI, blockchain, smart cities, the Internet of Everything and more.
The winners of the 2018 Catalyst Awards were judged by TM Forum's Collaboration Sub-Committee, which oversees the effective creation and adoption of pragmatic best practices and standards, delivering value to the membership by meeting industry needs.